Krieges LED by Fahren
Krieges headlight bulbs are considered one of the best LED conversion kits available on Amazon. That's because of the combination of top brightness, excellent durability, and precise beam pattern that can be perfectly adjusted for a specific vehicle application. They are exceptionally bright. Just imagine: these LED bulbs are 6 times as bright as your factory light bulbs. Besides, the lifespan of such bulbs is around 50.000 hours. This is truly impressive since you can forget what is headlight bulb replacement due to burnout. Great news, Krieges LEDs are very easy to install, as their shape and housing fit the factory headlight housing perfectly. So, they fit properly without modifications, and installation is just plug-and-play.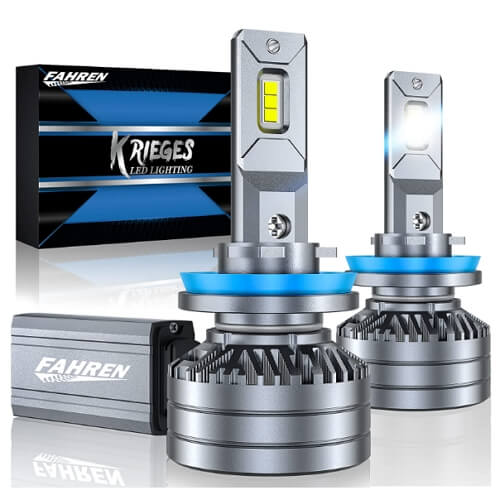 Technical characteristics
Wattage: 120 Watts
Color temperature: 6500K
Light output: 20.000 Lm [per pair]
Lifespan: 50.000 hours
Heat sink style: 12.000 RPM turbo cool fan
Voltage: DC9-32V
Krieges LED vs other Fahren LED Bulbs
What else makes Krieges LED so special?
Easy installation. Plug and play, fits factory housing without modifications.
Corrosion-resistant. The body is made of aviation-grade aluminum that is resistant to rust.
CAN-bus compatible. In the majority of cases, these LEDs do not require a load resistor or CAN-bus module to work error-free on the US-built vehicles.
Waterproof. Krieges LED by Fahren feature IP 68 protection level, so they are resistant to moisture and humidity.
360° adjustable beam. The adjustable locker ring can be rotated at 360, so you can move it in any direction to aim the light beam perfectly for your specific headlight setup.
Upgraded circuit board
Krieges LED series features an upscale circuit board. What does it mean to you? You are getting LED bulbs that come equipped with a board, that employs 120W power. This is the closest to a halogen bulb board. As a result, the board ensures that there are no flickering or error warnings for most cars. Besides, Krieges LED bulbs feature a built-in EMC system. It reduces the possibility of radio interference.
What is the difference between Fahren LED and halogen headlight bulbs?
Fahren LED bulbs allow you to see wider and farther. The ultra-slim design of Krieges LED headlight bulbs allows for perfect focus adjustment light beam. Also, it simulates the beam pattern of a halogen lamp. As a result, you are getting a brighter bulb that is focused exactly like the OEM halogen bulb. Also, the lower profile of the LED bulbs is only 0.94 inches, which makes it almost 1:1 design as halogen. As a result, it perfectly fits into your housing and factory sockets. No modifications are required! So, you get better on-road visibility without blinding the oncoming traffic. Max light output is capable of fixing any visual problems in front of the driver at night and gives it a wider and farther view of the road ahead and surroundings.