FAHREN LED
Headlight Bulbs for Cars, Trucks & SUVs
When it comes to headlight conversion to LED, there are many great options available on Amazon, eBay, and other respectful stores. However, you are looking for the best option for your car, truck, or SUV, that's why you are here. We know pretty much everything about aftermarket car lighting, as we work with headlights, tail lights, bulbs, and accessory lighting on a daily basis. That is why you can consider our honest overview of these LED headlight bulbs.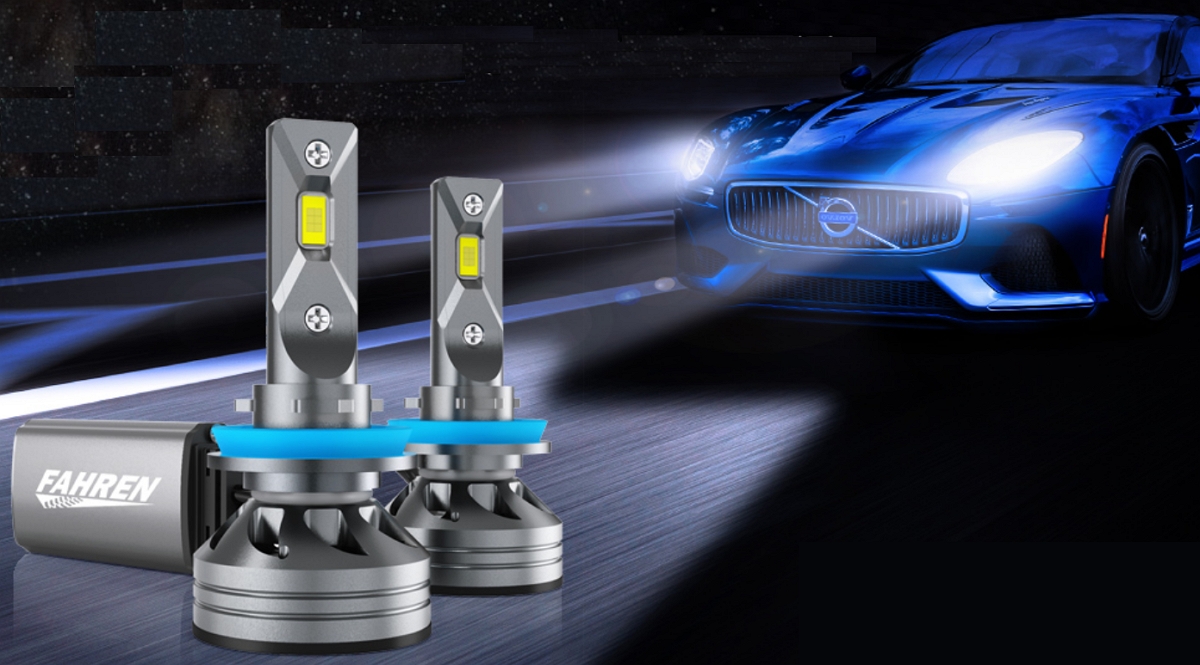 Fahren Featured Products
Why consider Fahren?
These LED headlight bulbs are quite affordable, compared to more expensive Japanese LEDs. Yet, they feature the same level of brightness (10.000 Lm per pair). The color temperature is 6500 K, which is cool white (with a light shade of blue). Compared to the regular halogen bulbs, Fahren LEDs are 3 times as bright as your standard bulbs. Another great thing about Fahren is its focused beam pattern. Again, we cannot say that they are more focused than certain more expensive LEDs, yet they focus as well as Hikari LED.
Speaking of design, Fahren LEDs feature an innovative hollow-carved heat sink design along with an aluminum body. So, the manufacturer claims that the product will work up to 50.000 hours. Turbo cooling fans rotate at a speed of 12.000 RPM. What does it mean for you? The LED chip will cool down fast, so this will prolong the lifespan of your investment. Another good thing about Fahren products is IP68 protection, which means they are completely waterproof. However, almost all modern LED headlight bulbs can boast this feature.
Design & Installation
LED bulbs by Fahren are designed to be close to the shape and dimensions of factory headlight bulbs. So, they are easy to install, as they fit great into the headlight housing without modifications required. For easier adjustment, every LED bulb features a 360-degree adjustable locker ring. In the majority of US-built cars, trucks, and SUVs they will work without a CAN-bus decoder.
Specifications
3 times brighter than halogen bulbs;
60W LED chips;
Brightness: 5.000 Lm per bulb;
Color temperature: 6.500K;
Precise beam pattern;
Over 50.000 hours of operation;
Aviation grade aluminum body;
Resistant to corrosion and rust;
Waterproof;
12.000 RPM cooling fans ensure fast cooling;
Plug-and-play installation;
Error-free operation.
Fahren LED Kits: Types & Kinds
There are 3 main versions of LED headlight bulbs by Fahren. They differ in specs, design, and prices. Below is a comparison chart showing the pros and cons of each headlight bulb type.
Ursprung LED
Forenner LED
Termitor LED
10.000 Lumens per pair
12.000 Lumens per pair
20.000 Lumens per pair
6.500 K
6.500 K
6.500 K
AVAILABLE BULB SIZES
H7
—
H7
—
9004/HB1
—
H1
—
—
9005/HB3
9005/HB3
9005/HB3
9006/HB4
—
9006/HB4
—
9007/HB5
9007/HB5
9012/HIR2
9012/HIR2
—
—
H11/H9/H8
H11/H9/H8
H4/9003/HB2
H4/9003/HB2
—
9008/H13
—
—